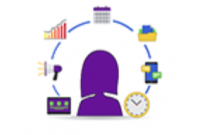 Don't Keep Your Successes to Yourself!
Enlist a Partner to Ensure You Move Forward
Are You Overwhelmed?
Get Better Results. If you are overwhelmed by social media and don't know where to start, OR you've started, but you'd like better results, you've come to the right place!
Not Techy? You wear a lot of hats and juggle many responsibilities. Maybe you're not techy, or you just don't "get" social media. You want to leverage it, but you don't want it to suck up all of your time.
Be Efficient and Effective!
You want to learn how to use social media efficiently, effectively and well. Be confident you're not making the same mistakes over and over again.
Imagine having a social media consultant/coach to…
Answer your questions so you can save time and money.
Ask whether what you've written looks good or if you'll embarrass yourself by publishing it.
Guide you through the technical aspects of social media, like how to tweak something on Facebook, post pictures or video on Twitter or navigate the frequent settings changes on LinkedIn.
Are you ready to turn things around?
Would it help to have expert answers to your SPECIFIC questions and a plan to help you move ahead?
Isn't it time you started accomplishing your goals as a result of your social media efforts?